India and China might still be facing off in Ladakh, and the memories of the martyrdom of Galwan's heroes might still be fresh, but one of India's most prominent newspapers has allowed its platform to be used for Chinese propaganda.
Far-left propaganda newspaper The Hindu has published a full-page ad celebrating the 100th anniversary of the founding of the Communist Party of China. The ad carries a note from China's ambassador to India Sun Weidon, and speaks of China's "development" and "contribution to the new era". The ad also speaks of how the CCP has worked for the people for the last 100 years.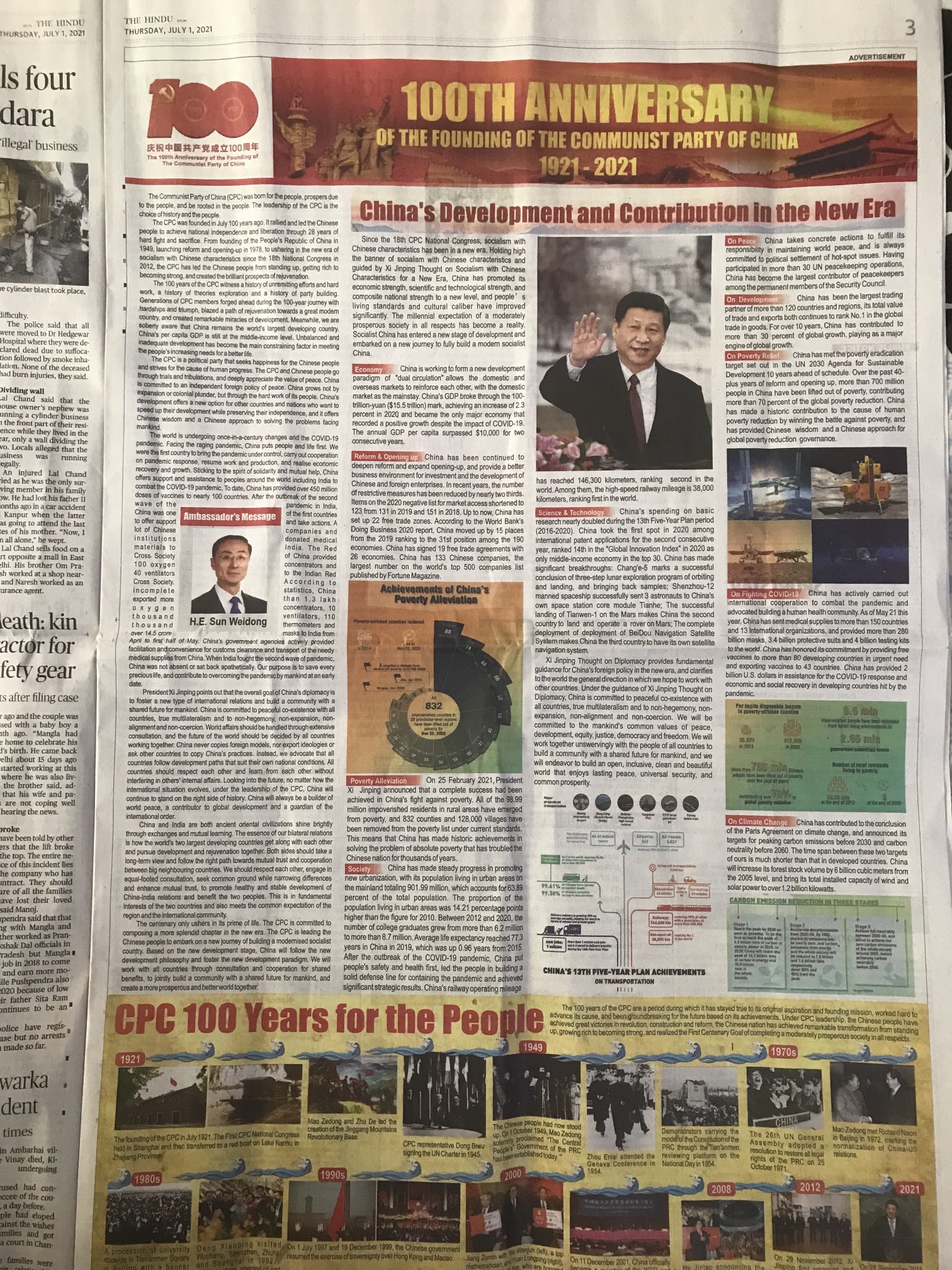 The propaganda ad comes at a time when China is under the scanner for having spread the coronavirus around the world by covering up a breakout at its Wuhan lab. The ad also comes amidst a tense border standoff with China, and just a year after 20 Indian soldiers were martyred at Galwan valley when engaged in an altercation with Chinese soldiers.
But this is hardly the first time that The Hindu has acted as the mouthpiece of the Chinese government. All the way back in 2016, China had used The Hindu to run its propaganda on the South China Sea dispute with the Philippines.
Earlier this year, months after the Galwan clash, The Hindu had similarly published a full-page ad by the Chinese government which spoke of its achievements. At that point, the ad had spoken about China's achievements in 2020.
While it's deeply inappropriate for an Indian paper to let a hostile foreign nation use its platform for propaganda, what's even more worrying is the money that The Hindu is receiving from the Chinese government for publishing these ads. It's common knowledge that such ads are used to buy favourable coverage in newspapers — India's media has virtually stopped criticizing Kejriwal since the Aam Aadmi Party splurged on a massive TV and print advertising campaign — and there's a real danger that China is similarly buying the allegiance of Indian newspapers as well. While The Hindu has long been discredited as being left-leaning propaganda outlet, to have a major Indian newspaper be beholden to a hostile foreign power is a threat to the sovereignty and security of India.
The Daily Switch needs your support!
If you find that the work we do is useful, and would like us to keep producing content, please consider making a donation.