Far-left propaganda platform NDTV is used to getting trolled by Indians on the internet, but it's now also getting trolled by news channels.
On 6th August, NDTV had shared a news report about how India had reported 44,643 new Covid cases, which was 4% higher than the day before. It added a picture of an Indian man receiving a coronavirus test. But there was a problem — India's Islamists weren't pleased with the picture it had used.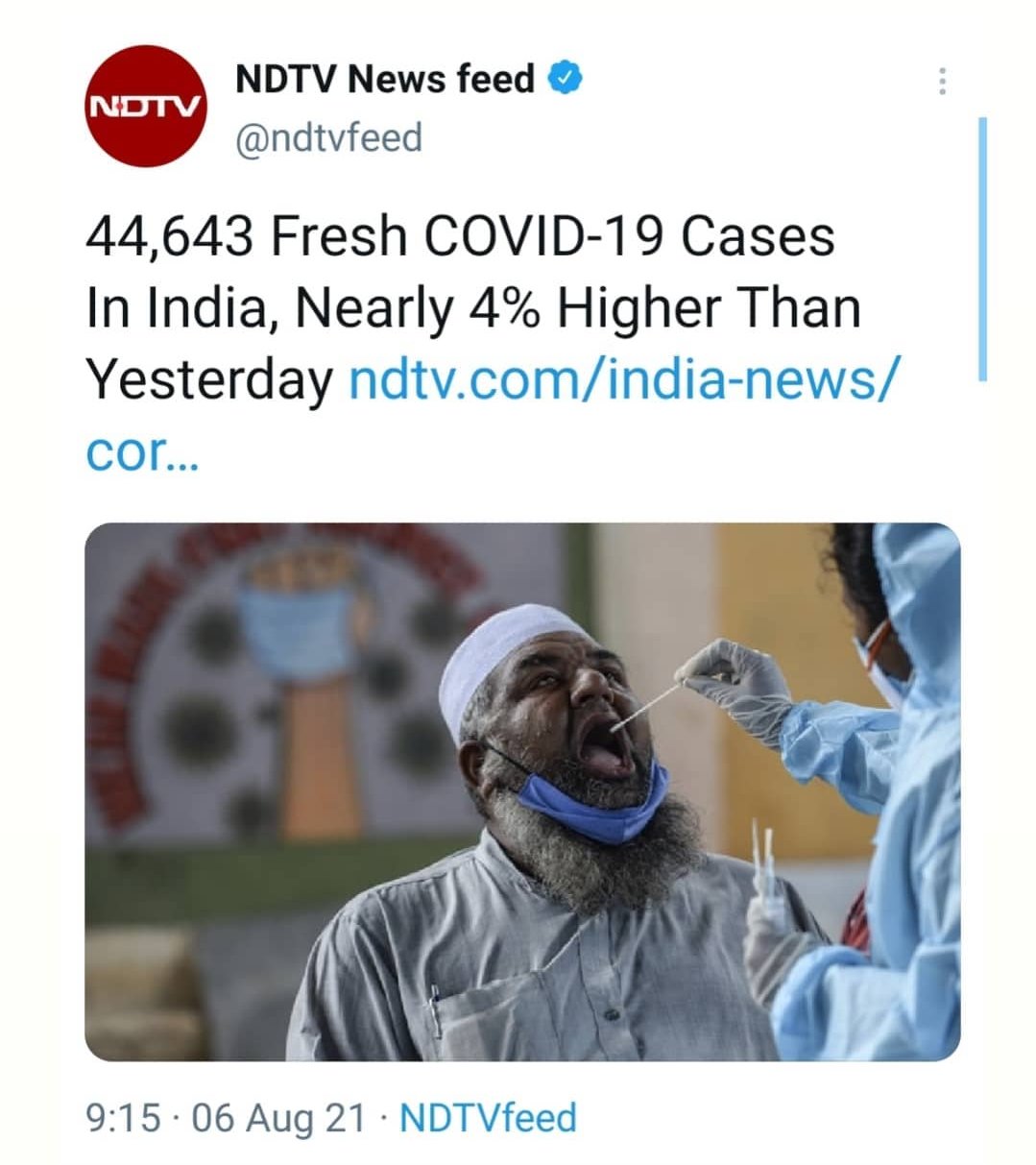 Rabid Islamists had descended on NDTV's tweet, claiming that the portrayal of an Muslim man taking a Covid test was somehow Islamophobic. NDTV's tweet received thousands of angry responses and threats for its supposed Islamophobia. Newslaundry columnist Sharjeel Usmani, who had been jailed for his role in the anti-CAA protests, had also sent out a veiled threat to the employee who'd uploaded the tweet. "Who in NDTV decided to use this picture with the report?" he demanded. "Employees may reveal the name if they wish to. DM is always open," he tweeted.
Predictably, NDTV buckled under the Islamofascist onslaught, and deleted the tweet. But even as Islamists were celebrating yet another victory in their assault on free speech, other news portals seemed to step in.
Hindustan Times shared a similar Covid update, but shared a picture of a woman in a burqa getting the vaccine. "Patna has now administered 95% first dose vaccination to its urban adult population and 33% to the rural masses," the tweet said.
Hours later, Times Now joined in." #India reports 35,499 new #COVID-19 cases, 447 fatalities in past 24 hours," it reported, but added a picture of another Muslim woman in a burqa taking a Covid test.
It's likely no coincidence that these two news channels shared pictures of Muslims along with reports of the coronavirus right after the NDTV controversy — NDTV might have bowed before its core target audience of Islamists and deleted its tweet, but India's real news media companies are trying to signal that they will now kowtow to extremists in their reporting.
The Daily Switch needs your support!
If you find that the work we do is useful, and would like us to keep producing content, please consider making a donation.