If India didn't already have enough enemies across its borders, it appears to be creating some of its own at home — and the Indian government is footing the bill.
An M.A. thesis presented at the Tata Institute of Social Sciences, Hyderabad, has called Kashmir "India-occupied Kashmir" right in its title. "Engendering Conflict: Understanding the impact of militarization, conflict and pandemic-induced lockdown on domestic violence in India Occupied Kashmir," is the title of the thesis, which has been presented by Ananya Kundu as a part of her degree in Women's Studies. The thesis was written under the guidance of Dr. Nilanjana Ray, who is an Assistant Professor of Gender Studies at the institute.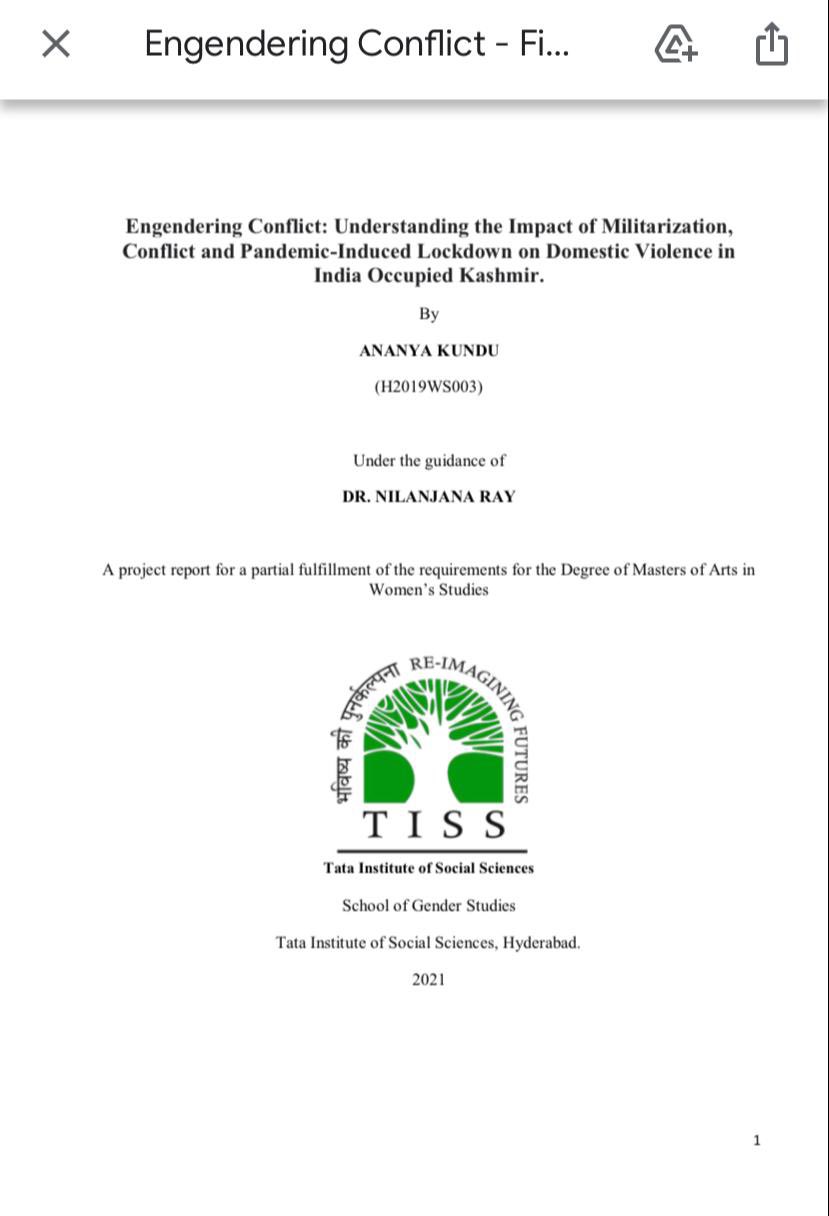 And the thesis doesn't only parrot Pakistan propaganda in its title — it continues to do so through the text. The thesis claims that the Indian state is "vilifying" Kashmiri men, and says that India's intentions in Kashmir are imperialist. Incredibly, the thesis goes on to call Pakistan occupied Kashmir as Azad Kashmir.
While referring to Kashmir as India occupied Kashmir is an attack on the territorial boundaries of India and by itself a crime, what's more incredible is that this thesis has been funded by the Indian government. "The Tata Institute of Social Sciences (TISS) which was established in 1936 is a Deemed University fully funded by the University Grant Commission (UGC), Government of India," says TISS's official website.
It's already a question why the Indian state should fund bunkum such as "women's studies" — a developing nation should be instead spending resources on science, math and technology — but what's even more worrying is the absolute capture of these soft pseudo-scientific fields by avowed leftists, who use the fat salaries and positions provided by the Indian state to wage a war against Indian interests. It boggles the mind how an Indian student, while enjoying subsidies provided by the Indian government, not only wrote a whole thesis with "India occupied Kashmir" in the title, but also managed to get it approved by an Assistant Professor at the Institute. Not only should anyone involved with this thesis by immediately sacked, but should also be arrested and slapped with lawsuits for waging war against India — anything less would be a travesty for the millions of Indian soldiers who've given up their lives for India's Kashmir cause.
The Daily Switch needs your support!
If you find that the work we do is useful, and would like us to keep producing content, please consider making a donation.