India's far-left ecosystem has been mourning Reuters photojournalist Danish Siddiqui after he was killed by the Taliban while reporting in Afghanistan yesterday. It's not only the media fraternity which has been hailing his work — several politicians including Kerala CM Pinarayi Vijayan, West Bengal CM Mamata Banerjee and India's I&B Minister Anurag Thakur also paid their tributes. But Danish Siddiqui's tweets and newly-unearthed videos reveal his biases, and call into question whether what he was doing could really be called journalism.
1.Glorifying Kashmiri stone pelters:
At a TED talk, Danish Siddiqui had appeared to criticize the scrapping of Article 370, and had glorified the community of Saura which was violently protesting against the Indian state. Siddiqui called the violent uprisings at Saura "The resistance", and spoke glowingly about how young men were "guarding" homes with stones and sticks against Indian forces. Siddiqui, however, only presented one side of the story, and left out details of how thousands of Indian forces had been killed in attacks by these young men. Incredibly, Siddiqui had appeared to not only justify, but also seemed to encourage violence against the Indian state.
2. Calling Nathuram Godse a "terrorist"
Journalists typically choose their words carefully, but Danish Siddiqui didn't seem to be particularly careful about the language he used. In 2013, he'd shared an article which called Nathuram Godse a "terrorist". This is factually incorrect — a terrorist is someone who carries out attacks against civilians for political aims. Godse, on the other hand, had killed a political figure in Gandhi, and not harmed any innocent civilians. Godse was a political assassin, yet Siddiqui appeared comfortable in mislabeling him as a terrorist.
3. Humanizing the Taliban
Yet Danish Siddiqui didn't seem to want to label actual terrorists as terrorists — he'd shared an article that attempted to humanize a Taliban commander while calling it "beautifully written". The article had shared a smiling picture of a 25-year-old Taliban commander, and spoke of his fondness of photos and his pink selfie stick.
4. Speaking against Afzal Guru's hanging
Closer home, Danish Siddiqui had appeared to support terrorist Afzal Guru, who was the mastermind of the Parliament attack which had killed 9 security personnel. Siddiqui had appeared to hint that Afzal Guru's hanging was a witch-hunt; after his hanging, he'd asked when Rajiv Gandhi's killers or Beant Singh's assassin would be similarly hanged. Incredibly, he'd also said that lots of Kashmiris would identify with Afzal Guru.
5. Demanding capital punishment for cops who killed Lashkar operative Ishrat Jahan
Even after David Headly had said that Ishrat Jahan was a Lashker-e-Tayeba terrorist who was looking to assassinate then-Gujarat CM Narendra Modi, Danish Siddiqui had, incredibly, declared that she was innocent, and said that he wanted capital punishment for the cops who'd killed her. "I as an Indian muslim demand capital punishment for cops who killed 4 innocent muslims to impress few politicians #ishratkilling," he'd tweeted in 2011.
6. Targeting Kumbh Mela crowds, while hailing farmer protest crowds
Danish Siddiqui, by his own admission, identified as being an Indian Muslim, yet appeared most interested in covering stories that showed Hindus in a poor light. While sharing a photo of the Kumbh Mela on Instagram, he highlighted how it was being conducted amidst the spread of Covid.
Interestingly, just a month prior, he'd shared a picture of a similarly large crowd at the farmer protest. This time his caption hadn't mentioned Covid — he's instead focused on how thousands of women were wearing bright yellow scarves which represented the colour of mustard fields.
Siddiqui had, of course, completely ignored crowds on the occasion of Eid during the coronavirus pandemic.
7. Targeting Diwali firecrackers
Danish Siddiqui covered several war zones with rockets and bombs, but seemed curiously perturbed by Diwali firecrackers. Firecrackers have a 2300-year-old history among Hindus, yet Siddiqui seemed intolerant of this custom, bigotedly tweeting that he wanted to "punch the person who invented firecrackers".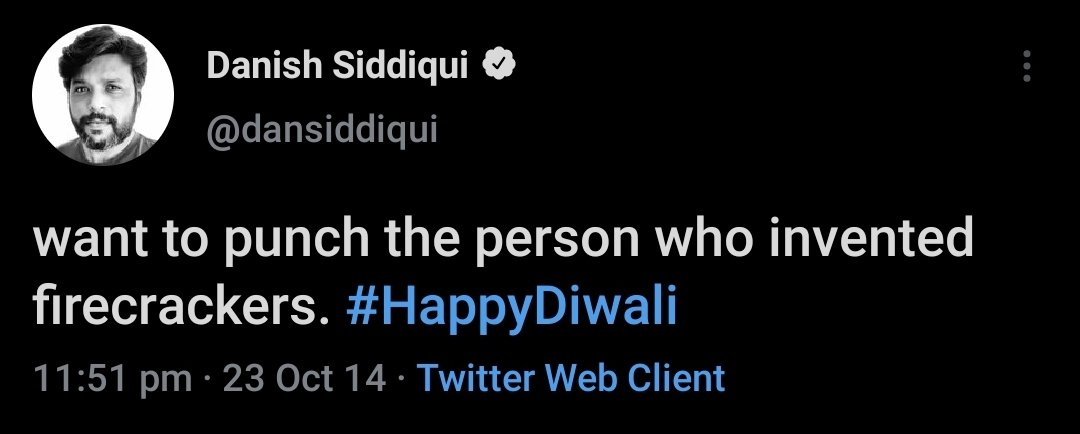 He'd also tweeted how firecrackers were "killing him" on Diwali.
8. Targeting Hindu Covid deaths
Siddiqui is perhaps most infamous for his pictures of cremations during Covid, which were deemed "insensitive" and "vulture journalism" in several quarters. Yet curiously, Danish Siddiqui only seemed to focus on Hindu deaths during Covid — there had been plenty of Muslim deaths too, but even as a self-proclaimed Indian Muslim, he seemed to go out of his way to photograph Hindu deaths, and shared no pictures of Muslim deaths or burials.
Danish Siddiqui's personal biases appeared to carry over into his work as well. While he openly identified as an Indian Muslim, he rarely seemed to highlight problems with his own community, including the issues of terrorism, the condition of its women, and other social ills, instead choosing to train his rather critical lens on the Hindu faith. He also seemed to have a blind spot around terrorism, with him photographing a Hindu who'd merely brandished a gun at the anti-CAA protest, while never covering any stories around the thousands of lives that have been lost to Muslim terror.
It would appear that Danish Siddiqui's photojournalism was selectively crafted to carry forward a certain narrative. For Siddiqui, assassin Nathuram Godse was a terrorist, yet actual Muslim terrorists were photography lovers with pink selfie sticks, wrongly hanged, or completely innocent; while farmer protests crowds were beautiful in the colours of mustard, crowds at Kumbh mela caused Covid; while violent protesters who were throwing stones at Indian army personnel were victims, the Indian state was overbearing and unconstitutional. There's little doubt that Danish Siddique was good at what he did — his pictures were powerful, and frequently went viral. But to selectively highlight one side of the story isn't quite journalism — it is propaganda.
The Daily Switch needs your support!
If you find that the work we do is useful, and would like us to keep producing content, please consider making a donation.